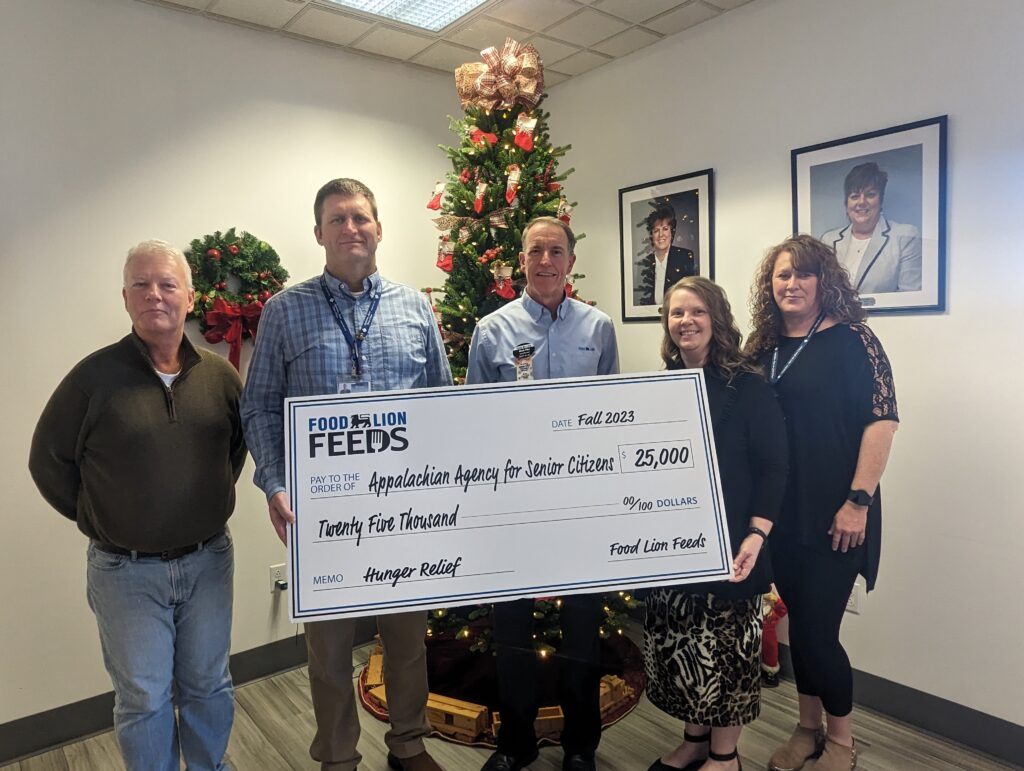 Mark Pike, Food Lion store manager in Richlands, VA, officially awarded the agency a $25,000 check for the Meals on Wheels America Meeting Unmet Needs Grant to expand the nutritional services horizon in AASC's four-county service area.
(L-R) Director of Aging Services Wayne Damron, CEO Brian Beck, Food Lion Store Manager Mark Pike, Director of Nutrition Amanda Price and Nutrition Supervisor Julene Dunford.
Cedar Bluff, VA — Appalachian Agency for Senior Citizens has received $25,000 from Meals on Wheels America, the national leadership organization supporting community-based programs across the U.S. dedicated to addressing senior isolation and hunger, to help bridge gaps in the availability of essential nutrition services.
Appalachian Agency was awarded a Meals on Wheels America Meeting Unmet Need Grant to deliver and expand nutrition options in its four-county service area, with the goal of serving the nutritional needs of underserved or unserved seniors.
"We are very excited to receive this grant from Meals on Wheels America," said AASC's Director of Nutrition Amanda Price. "This generous funding will allow us to provide home-delivered meals to additional seniors in Buchanan, Dickenson, Russell and Tazewell counties."
With this grant funding, AASC plans to purchase a four-wheel-drive vehicle to allow nutrition drivers to reach homebound seniors residing in the service area's most rural and rugged locations.
"Given the growth in the older adult population, coupled with the impacts of the pandemic, inflation and other factors, it is vital that we invest in Meals on Wheels programs' ability to expand services and reach all those in need," said Ellie Hollander, Meals on Wheels America President and CEO. "We believe that no one knows better what these communities need than the boots on the ground staff and volunteers delivering Meals on Wheels service to their older adult neighbors every day, and we're proud to support their efforts with these grants."
In total, $1.2 million in grants were awarded to 56 local Meals on Wheels programs as part of the Meals on Wheels America Meeting Unmet Need grant program. Funding for Appalachian Agency's grant was made possible by Food Lion Feeds, a Meals on Wheels America national partner. Food Lion Feeds is committed to fighting senior hunger and making a meaningful difference in nourishing homebound seniors.
To learn more about AASC's efforts to address unmet needs, visit www.aasc.org. If you need assistance with food or other services, call 276-964-4915.